Making History
In much the same way Sparta's King Leonidas and a small army of determined warriors stopped the advance of the massive Persian empire at the Battle of Thermopylae 2500 years ago, SpicyPress empowers small businesses and organizations to compete against much larger conglomerates & corporations.
Let's just hope we fare better than they did!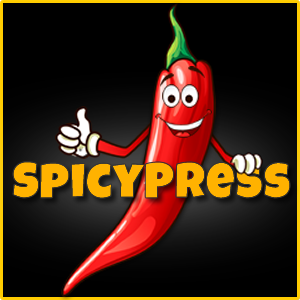 "How Ideas Get Published"
SpicyPress:  How Hot Can You Make It?
SpicyPress is more of an "idea" than a thing.
The concept is deployed on many 'platform' websites for different vertical markets. It's a collection of premium hosted tools that work together to attract and engage with both potential and existing customers while building authority and trust.
Because relevancy and credibility are important to both people and search engines each platform is designed to focus on specific B2B and B2C market segments (plumbers, gardening, seafood, attorneys, health & beauty, etc.).
The basic premise behind SpicyPress is actually a simple, straight-forward approach to marketing:
Share resources to reduce costs;
Use proven technology and current best-practices;
Connect and establish online brand identities to give Google the 'entity' and 'data relationships' it is looking for, together with the trust factor confidence people want;
Use premium themes and addons to make a good impression and to communicate more effectively with potential and existing customers;
Leverage the activity of other members to build authority through crowd marketing;
Cooperate in practical and sustainable ways by inviting fair-minded and competent 3rd-party contractors and agencies to participate and help members;
and reward referrals and network participation.
Web Publishing
SpicyPress uses the Wordpress blogging and CMS (content management) platform together with top-name Theme Frameworks, Plugins and Page Builders under GPL licensing.

We're here to provide small businesses and organizations with the same tools used by large corporations in their web development and online marketing.  At a fraction of the cost. Working together, we can do a lot more for a lot less.
Because it's Wordpress based most support people need to make things work comes from the WP Community. Knowledgebase and support ticketing system help with platform and business issues. 
Spicypress LLC
Spicypess.com is owned and operated by Spicypress LLC, a US corporation.
Community Networks
SpicyPress features high-quality niche market and location-based directories and website hosting to promote people, places, events, jobs, products, and services.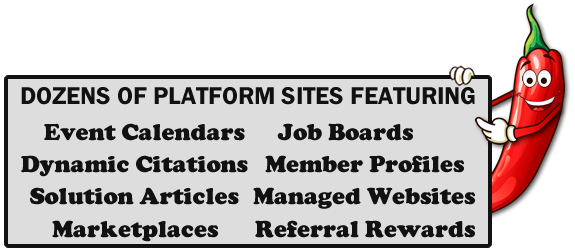 Do-it-Yourself DIY   

Done-For-You DFY   

Do-It-For-Others DFO 
Content Marketing That Connects
What the heck is a digital chestnut? The basic idea behind Web Publishing and Community Networking is to provide small business owners the tools and services necessary to make it easy for people to find and share what they're interested in (products, services, events, jobs, people).
Small businesses and organizations can attract and keep clients by taking advantage of crowd-marketing and presenting useful content to a common audience.  Data relationships make sure niche relevant authority is associated with brand (and author/content creator) identity.
Economy-of-scale sharing of high-quality resources (hosting, themes, plugins, tools, info & assistance) reduces costs while making everything easier. 
Have you ever been pleasantly surprised when the street vendor or food server adds a little bit more to your order before handing it to you? Keep your eyes open for that little extra bonus... our digital chestnuts.
Syndicate and Connect To And From Social Media and Blogs
Content can be sent out to Social Media from SpicyPress and can be pulled in to websites and directory listings to leverage the same work in more places and audiences.
Use best practice automation to get more exposure from the same amount of work.
Directory listings can display live feeds from social media and blogs.
Website/Tier 1 Blog posts can be scheduled for automatic syndication across multiple social profile accounts, and social content can be displayed on your blog.
Socialized content attracts a much wider audience and strengthens search authority. Diversified messaging is part of a larger sales funnel directing your target customers to the point of sale. Leveraging the same content in different (appropriate) places has a multiplier effect.
Because member profiles are connected to content this means that brand/author identity and authority becomes strengthened.