The First Penguin Theory
Having to make that critical decision about "should I, or shouldn't I" is as old as cave art. In fact, it's a dilemma shared among the animal kingdom.
  Guinea Pig, Canary in the Mine, or First Penguin?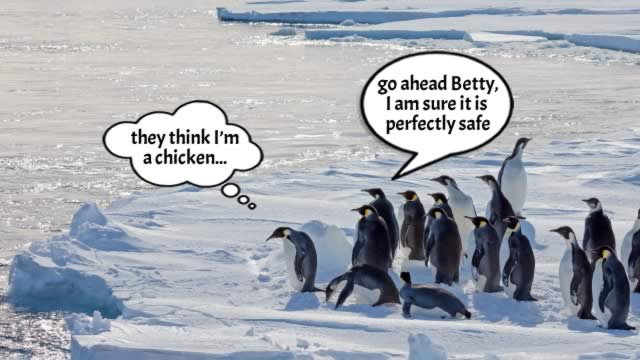 When new opportunities present themselves, few people like being the first penguin to test the water and find out if predators are lurking and what dangers await unseen beneath the surface.
The Market Waits for No One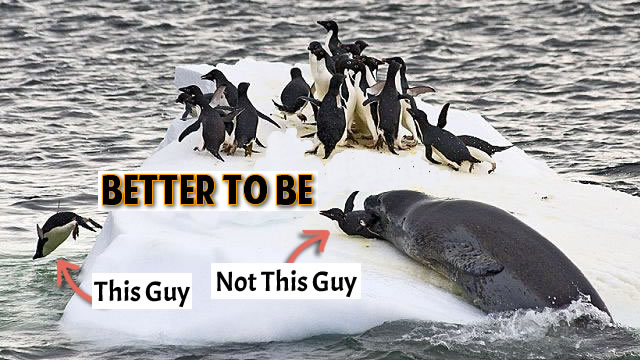 Waiting around to see what happens is also bad for business. Someone invariably sneaks up from behind you, or the ice melts under your feet.

Innovate Using Proven Techniques
Content Marketing & How to Manage the Sales Cycle
First To Market
Technology and business norms change rapidly.
Being first to market can be a huge advantage in emerging markets. But even just keeping up with your current place against established and upcoming competitors means you probably need to try a variety of new things.
Consumer behavior is changing too. More people are comfortable using computers, mobile devices, the internet, and social media to explore, research, and make commitments. Mobile apps are emerging as the new normal sooner rather than later.
Despite a changing landscape some things remain fundamental: there is a 'sales cycle' where people discover something, they research it, in some way, and then they commit to it. Sometimes this happens all at once, but mostly it is spread out over time, and through various means.
No Need to Be Reckless
Whether you want to make a big splash or tread quietly it pays dividends to stay with proven sensible strategies and techniques.  What works in one place and one type of customer, could work elsewhere too - it's just a matter of being able to balance Time, Money, and the Effort required to make it happen. Test, and check the data.
This is especially true in re-using your new and/or existing content in more places to reach more people. Jumping in as the First Penguin can simply mean just automating syndication to use the same work in more places. Squeezing more value out of everything you do is usually worthwhile.
Proven Is Better Than Experimental

SpicyPress relies upon Wordpress to get things done. With 70 million websites, it is a proven reliable product. Part of the platform are dozens of high-quality, field tested, and supported plugins and themes that deliver features and functionality.
The strategies we deploy are researched to adhere to best practice approaches for digital marketing.
We like the idea of giving Google and Bing what they want to see while maximizing the user experience.
When it comes to website hosting -- Open Source -- is the only way to go. Export content, design templates, data quickly and easily. Shared resources under GPL licensing spearheaded by Wordpress make access to many tools very affordable.
Strategies, Tactics, Tasks
A universal truth of all types of marketing is the need to convey positive reliable information to prospective customers.  Search engine algorithms recognize this and seek out 'entities' and 'data relationships' in order to guestimate the best solutions for people. Getting relevant useful content seen in more places by more people helps this process.
Keep in mind that very few people make a commitment to purchase something on their first visit to a website. Managing the Sales Cycle involves getting Discovered, looking good in Research, easy to Engage with, and offering low friction to Order. Don't forget about 'lifetime value' of repeat business and referrals. Reviews and shares are valuable too.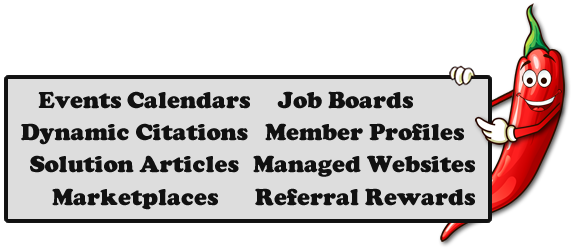 Web Publishing Community Networks
Consumers Doing Research
Discover something new and interesting, or research the products, services, and companies you're already familiar with. Find links to social media and read real reviews. Make contact quickly and easily.
Businesses Doing Marketing
Help people and search engines understand more about you and your offers. Diversify marketing efforts and get more results. Use efficient & affordable tools and services. Speed up the Sales Cycle.
Many Different Platforms Focus on Different Business Niches
Inform Users, Educate Audiences, or Bring Awareness to a Cause, Product, Service, Organization or Company
No Charge to Join and Get Member-Only Access to Valuable Features. Upgrade for More Options.

Content Marketing That Connects
SEO Your Brand Across the Web, Improve Conversions,
and Maximize Customer Value
Content + Social + Advertising + Engagement + Data + Analytics
SpicyPress is a collection of premium hosted tools. These work together to attract and engage with both potential and existing customers while building authority and trust.

B2B and B2C platforms focus on specific markets and offer many channels to create, syndicate, and connect quality content.
Because "certainty" and "relevancy" are massive trust factors for both people and search engines, we make it so that content can be integrated between social media, blogs, progressive web apps, reviews, profiles, maps, and directory citations; and associate it with brand/author identity and activity (to stay fresh & relevant).
This gives you plenty to 'talk about' with your various audiences and something that search engines crawl and index regularly.
Read Why Authorship Is Important

Web publishing networks are intended for use by everyone from DIY mom and pop operators to agencies supporting small to medium sized businesses.
Small organizations can take advantage of the same techniques used by big companies. Shared resources means that you can get more results while also lowering costs.
Visit the network platform appropriate for your business niche, sign up for a free membership and take advantage of many valuable features, then just upgrade for more options.

Do-it-Yourself DIY   

Done-For-You DFY   

Do-It-For-Others DFO 
Boost Your Brand with Content and Data Relationships
Effective and Affordable Best Practices
When it comes to building Authority and Expertise, you shouldn't try to fake it. But there are techniques to speed things up.
Authentic Trust Factors: Display social media posts and real reviews from Facebook, Google, Yelp, AirBnB, and Tripadvisor on your own website or directory listing instead of sending potential customer away to get distracted on social media.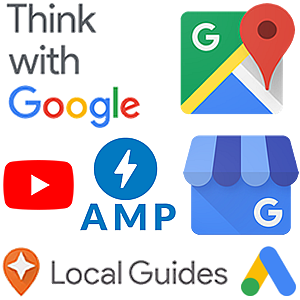 Google Friendly Marketing: When it comes to showing up in search results one thing that is often overlooked is the need to not just promote a business, but to also establish the authority of content creators; i.e. "author rank" or "authorship".
Google publishes a 168-page guide for it's quality rating team (10,000+ people that evaluate search results). The guide refers to the importance of expertise, authority, and trust (E-A-T) 150 times and says to judge the writers and not just the websites.
Google Looks for Solution Content: The better we are at telling Google what things are about, the more often they'll keep checking to see what's new, and what kind of solution it offers... questions it answers, or problems it solves.
Mentions Matter: Success relies upon customer confidence. What do people see when they search for your brand name?  It pays dividends in conversions and search results to invest time and effort in content marketing distributed across multiple channels.
Local Advantage: Small businesses and organizations with established local authority should do better in search results than large conglomerate brands. However, it takes work.
Mobile-First Indexing: Tied closely to location-based results, and good user experience is the trend toward the "mobile web" in search results. This area is changing rapidly and worth attention.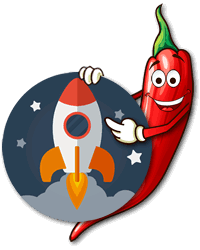 Crowd Marketing: Crowd sourcing and cooperative digital marketing using shared resources is the ideal approach to get more results while saving money.
Channel Diversity: Use automation to leverage content across multiple outlets to reach more people.
Relevancy: Dozens of platforms means that you can closely associate your brand and authorship to specific niche markets and target audiences.
Use Open Source: Generous GPL Licensing pioneered by Wordpress allows sharing resources to reduce costs. Other popular hosted website solutions also make it very easy to setup a website.

But proprietary licensing makes adding features, and/or simply trying to export content or designs impossible or very expensive.
With SpicyPress, it's yours, not ours. Export your data, settings, and designs. A massive trove of addons makes expanding scope and scale of what you're doing very practical.
Data Data Data: Have you ever said: "I know my customers better than anyone!". But what about the customers you're not getting?  If you're not looking at the analytics of what's going on with your web properties, you're missing out on opportunities.
Tech Makes a Difference: Properly coded systems are important. There is a lot of hidden stuff going on that impacts how successful content marketing ends up being. This includes speed for UX (user experience); structured data schema (search engines); mobile optimized formats; analytics; and security.
Become More Popular With BOTH People and Search Engines
What Does Your Target Customer "Sales Cycle" Look Like?
How do they discover you?
How do they research about you?
What factors influence their purchase?
Are you getting the right information, seen at the right time and place, by people interested in it?
SpicyPress ticks the box on things that make it easier to influence the sales cycle.

Keep in Contact with Customers & Partners

Provide Useful Product & Brand Information

Understand What People Care About

Maximize Customer Lifetime Value

Display Meaningful Trust Factors

Distribute Your Messages Widely
Get Found and Convert Customers

Use Data to Increase Credibility and Relevancy

Generate Mentions Seen In Search Results
Affordable, Effective, and Efficient

Create New Content & Use It On Multiple Places

Leverage Existing Content and Get More Out of It

Automate and Outsource

Establish Trust & Authority

Use Multiple Channels Quickly & Easily
Crowdsource and Cooperate

Manage Behavior Flow to Order

Partners & Referral Rewards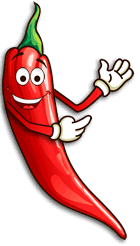 What's Your Marketing Recipe?
How do you make it easier for people (and search engines) to find what they're looking for and to buy from you?
There is more than one way to reach marketing goals using SpicyPress networks.
As you dig into available tools and resources you'll probably find the solution that works well for your situation.
Options range from simply having a member profile that connects identity to content; or a dynamically updated citation directory listing featuring content from social media and blogs (that attracts googlebot crawling & indexing); or maybe solution article authorship that shows relevant activity linked to your profile(s); or Events and Job Listings that invoke business authenticity; or a quality landing page for social and advertising campaigns; or all the way to a professional full-featured optimized & managed website that syndicates content to multiple social and Web2.0 properties and has trust factors, newsletter, list building & lead generation management capabilities.
We suggest creating content on a website/blog and then syndicating to social media, and then referencing that content in dynamic updated directory listings - all tied to brand/author. Tell people and search engines how you're solving problems.
Do-it-Yourself DIY   

Done-For-You DFY   

Do-It-For-Others DFO