The First Penguin Theory
  Guinea Pig, Canary in the Mine, or First Penguin?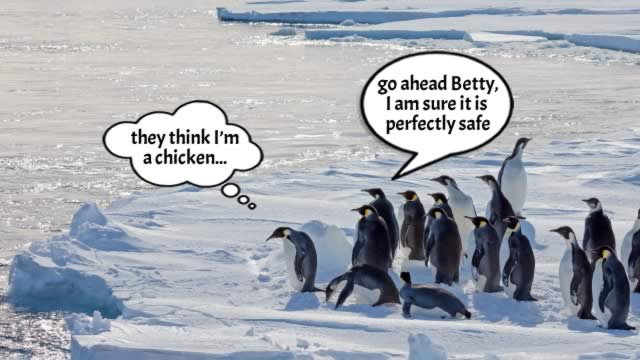 When new opportunities present themselves, few people like being the first penguin to test the water and find out if predators are lurking and what dangers await unseen beneath the surface.
The Market Waits for No One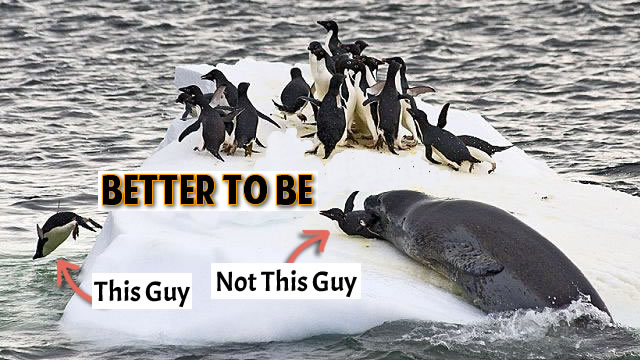 Waiting around to see what happens is also bad for business. Someone invariably sneaks up from behind you, or the ice melts under your feet.

Innovate Using Proven Techniques
Content Marketing & How to Manage the Sales Cycle
First To Market
Technology and business norms change rapidly.
Being first to market can be a huge advantage in emerging markets. But even just keeping up with your current place against established and upcoming competitors means you probably need to try a variety of new things.
Consumer behavior is changing too. More people are comfortable using computers, mobile devices, the internet, and social media to explore, research, and make commitments. Mobile apps are emerging as the new normal sooner rather than later.
Despite a changing landscape some things remain fundamental: there is a 'sales cycle' where people discover something, they research it, in some way, and then they commit to it. Sometimes this happens all at once, but mostly it is spread out over time, and through various means.
No Need to Be Reckless
Whether you want to make a big splash or tread quietly it pays dividends to stay with proven sensible strategies and techniques.  What works in one place and one type of customer, could work elsewhere too - it's just a matter of being able to balance Time, Money, and the Effort required to make it happen. Test, and check the data.
This is especially true in re-using your new and/or existing content in more places to reach more people. Jumping in as the First Penguin can simply mean just automating syndication to use the same work in more places. Squeezing more value out of everything you do is usually worthwhile.
Proven Is Better Than Experimental

SpicyPress relies upon Wordpress to get things done. With 70 million websites, it is a proven reliable product. Part of the platform are dozens of high-quality, field tested, and supported plugins and themes that deliver features and functionality.
The strategies we deploy are researched to adhere to best practice approaches for digital marketing.
We like the idea of giving Google and Bing what they want to see while maximizing the user experience.
When it comes to website hosting -- Open Source -- is the only way to go. Export content, design templates, data quickly and easily. Shared resources under GPL licensing spearheaded by Wordpress make access to many tools very affordable.